The Latest On Mother Teresa
|
<!-google_ad_section_start->
Many Believe Mother Teresa Deserves Sainthood.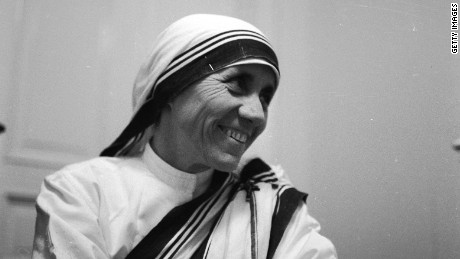 (CNN)So Mother Teresa will become an official "saint" on Sunday. The prospect of her canonization means very little to those outside the church, many of whom deride her. Indeed, she was the subject of a famous diatribe by Christopher Hitchens, who described her as "a fanatic, a fundamentalist and a fraud."
Many believe she deserves sainthood for a number of reasons, and even those not wholly committed to the angelic orders should revere her example of commitment to helping the poorest of the poor.
Let's understand what it means, in Roman Catholic terms, to become a saint.
There are
over 10,000 saints in the church, and these figures acquire sainthood through a process that has been in use since the 10th century.
In spite of her private misery, she persevered, believing in the work of identifying with the mission of Jesus, who had a special love of the poor — those on the margins of society, those without fame or wealth or power, those truly discarded by the rest of the world. She believed she could, indeed must, take on the cross herself and find her way to union with God through these labors.
I don't think you have to be a Christian (as I am) or a Roman Catholic (as I am not) to appreciate the depth of her example.
Mother Teresa is already a saint in my heart. I don't especially care whether she has official recognition or not, although I'm glad to think she has it, and that those who wish to follow her example, which is the example of Christ, may find a way to grace through her.
Read more: http://www.cnn.com/2016/09/01/opinions/mother-teresa-deserves-sainthood-parini/index.html
<!-google_ad_section_end->